Riceland Foods Inc.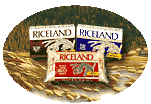 Riceland Foods, Inc. is a farmer-owned cooperative formed in 1921 to market rice. It has grown to become the world's largest miller and marketer of rice.
Today, Riceland markets rice, soybeans, wheat and other feed grains grown by its 9,000 farmer-members in Arkansas, Missouri, Mississippi and Louisiana. Each year, its 1,800 employees receive, store, transport and market more than 125 million bushels of grain. Riceland is recognized as the seventh largest grain storage company in North America
Rice, edible oil and shortening products are marketed under Riceland and Chef-way labels, private labels, as ingredients and in bulk. These products are sold across the nation and to over 60 foreign destinations. Riceland is a major supplier of quality foodservice products.
Generation after generation of Riceland farmers have planted, cultivated and harvested rice that became Riceland Rice. That tradition continues today. Each Riceland product is backed by generations of rice farmers whose goal has always been to produce the finest quality rice in the world.