Vulcan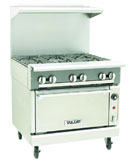 Masterful design. Precision performance. State-of-the-art innovation. For over 130 years, Vulcan has been recognized by chefs and operators throughout the world for top-quality, energy efficient commercial cooking equipment that consistently produces spectacular results. Trust Vulcan to help make your culinary creations turn out just right—each and every time.
Vulcan is associated with the Vulcan Food Equipment Group and is a division of the ITW Food Equipment Group.
Company Overview
Our history can be traced back to 1865, and a foundry company in Louisville, Kentucky that manufactured cooking stoves and other products. That operation would later become part of the Hart Manufacturing Company.
The Vulcan name first appeared in 1890 with the formation of the Vulcan Gas Heating Company. Through the early 20th Century, both companies grew and continued to add product lines.
In 1949, Vulcan-Hart was formed when Hart Manufacturing Company acquired the Vulcan name and line of commercial products. The new company continued to expand its product lines, both through acquisitions and through research and development.
Today, Vulcan is among the world's largest manufacturers of commercial cooking equipment, with worldwide distribution of the broadest line of gas and electric equipment.